Creative
VIDEO SERVICES
EXCEPTIONAL CONTENT
creative video production services IDEA GENERATION
GIVING      YOUR     AUDIENCE     
GOOSEBUMPS

UNIQUE, DISRUYPTIVE & STICKY
Creative use of video to help build and promote brands
Forget about dramatic camera angles or exciting music – a good idea is what makes a video great, memorable and effective. We're creative people and we like to challenge the norm but importantly we're also experts in our industry.
We know what works, what grabs and holds a viewer's attention, and what doesn't – and we know what's been done before – so we're ideally placed to help you come up with a refreshing new concept for your video which will set you apart from the rest.
WE'RE FAST, AGILE & FLY ABOVE THE REST

At the heart of every good video, there's a great idea.
There's no denying it. We're creative people, and we're in our element when we can let our imaginations run wild. Nothing inspires us more than a client who comes to us with just a vague idea, needing us to take the creative lead. Just reading those words give us shivers.
Ideas buzz around the office, float through the air and take form on little scraps of paper. They become doodles on notice boards and heated debates stoked by the fires of free thought. Read more about Dragonfly's Idea Development Services.
GIVING      YOUR     AUDIENCE     GOOSEBUMPS
At Dragonfly we provide a total script writing service, right through from the crazy, idea-bouncing development phase, to the drafting process and beyond.
Our script writing service will put you in direct touch with our writers to flesh out your ideas. You'll give them your imagination, your thoughts, your market and your purpose.
After a quick conversation they'll be able to turn around a tightly honed screenplay that brings your ideas together with their imaginations.
Scriptwriting
SERVICES
DELIVER YOUR MESSAGE
WITH CLARITY
COMPELLING
Storyboard
Artwork


Think of a storyboard like a map, it's a plan for your video from the opening shot right through to the end credits, and without a good storyboard, it can be easy to get lost.
Storyboard artwork is one of those vital first steps in your video that can have a huge impact on the rest of the production. Getting the visual look right, considering camera angles, developing concept art and sketching out editing cuts is all done at this early stage, so that when it comes to production, everyone know what they need to do and works together as a coherent team.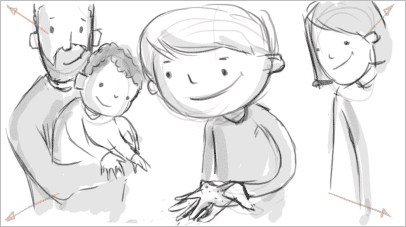 You could say that we are video makers, but that wouldn't cover half of what we do at Dragonfly. Our core team are formed of eminently creative people who love to take ideas and concepts and develop them into something not only workable, but inspirational.
We can take just the seed of an idea and produce tight, exciting scripts and highly detailed and imaginative storyboards. We can make inspired choices about the best talent to star in your video production, and find the right voice over artist to represent your brand.
Want to take it one step further? By combining our creativity with the leading media technology, we can create highly personalised interactive videos that are guaranteed to engage your audience's attention and make waves in an ocean of mediocre video content.
'Creative' is in our job description
We love coming up with concepts and inspiring clients with our visions. From beginning to end we want to transform the form, re-function the function and most of all create something that's new, exciting and fresh.
We're ideas people, imaginative creatives that can't wait to get their teeth stuck into new and exciting projects. Nothing gets our blood pumping like the client who comes to us with the barest of bones, looking for a new and innovative way to express their ideas.
It's the reason we get out of bed in the morning, and why we sleep well at night.
Creative block? We'll shift it
Our concept development team pride themselves on their ability to make things work, turning dead ended scripts into navigable narratives and polishing off rough sketches to find that diamond deep within.
We've found that engaging with our clients in ideas focused sessions can really draw the best out of both of us. We can bounce basic ideas back and forth, turning them into fully functioning projects, take thin concepts and turn them into concrete compositions.
Dragonfly's Video Production Services
Offering an unforgettable video production service,
to sky-rocket your business' profile.
Anything is possible with animation & take your audience to the moon, or inside the workings of your product. Imagination set free.
Explain yourself – who you are and what you do. There's no substitute for talking directly and openly with your customers.
There's no better way to capture your audience's attention than with a professional and effective video. With Dragonfly you'll get something much more creative, we only make videos which hit their mark.
A simple and effective way of communicating 'face-to-face' with the viewer. Perfect for an interview with your CEO, or a testimonial from a satisfied customer for instance.
More followers, more sales, more clicks – Whatever your marketing aims we can tailor your video to make sure you achieve them.